This post is part of the B2B Retention Handbook series. To explore more challenges and solutions, check out the series here.
In any relationship communication is key, but that's especially the case for speaking with your customers. Whether to field customer questions or accept feedback, it's important to have a clear outlet for users.
You can also uncover incredibly beneficial insights and proactively support conversations by using data from customer engagements. Have they stopped engaging with product updates you know they'll care about? Have users dropped off their product engagement? Having a place to go to know what's going on can only help your team stay aligned to best support your customers.
Consider the following solutions to the biggest issues in communication that lead to contract churn.
Outline
Reasons
Two of the top reasons customers churn are:
Poor customer service
Poor two-way communication
These two reasons are related, of course.

If customers can't reach out and immediately get answers or deliver feedback, they get frustrated and move on to other tasks. If this frustration continues, it may lead to abandonment and churn.
The bottom line is that customers require quick and easy access to information, which doesn't mean filling out a form or a support ticket or sending an email and waiting hours, or even days, for a response.
Equally frustrating is being sent to a Contact Us page with phone numbers and a form—again, no easy, direct way to get an answer or solve a problem.
Even chatbots can be frustrating when they aren't live, and you're guided through a series of automated responses that don't answer your question or provide helpful tips.
On the feedback side, your Customer Success team may send customers monthly or quarterly surveys, but they ask only specific questions with number ratings or yes/no answers. There may be no other simple way for customers to provide direct feedback or request features and updates.
This lack of two-way communication and the ability to get quick action on issues and questions can result in a poor customer experience that compounds over time and leads to churn.
Solutions
Bonus: Understand Where Your Customers Are in Their Journey - And Retain More of Them
When good customers churn, it can be an unpleasant surprise, to say the least.
The most consistent, growing companies stay in touch, get feedback, and ask their Customer Success teams to help customers succeed. But, how do you know when things are changing in a potentially negative way?
One important way to monitor customer happiness is with customer engagement data. Klearly aggregates customer data from all of your sources and transforms it into a unified way to look at what's happening across teams and touchpoints. From there, signals are connected to individuals and their accounts so patterns of engagement can be identified and prescriptive insights can be generated about customer activity, progress towards goals, adoption, interest, and satisfaction. Ultimately, revenue teams are empowered to take the next, best step toward retaining customers and growing your collaboration with them.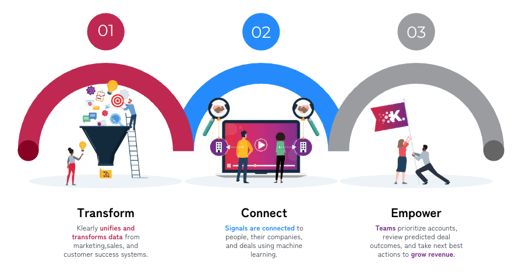 If engagement with marketing or sales communications starts to fall off or stop altogether, you can receive notices with Klearly and take action to re-engage.
If product utilization drops off or support ticket volume increases, you can automatically send a notice to the appropriate team and follow your process to reactivate customers, provide training and support, and prevent churn.
With a system to help you keep customers engaged, you can engage proactively outside renewals or quarterly reviews. Klearly helps you harness customer data to keep your relationships moving forward, grow customer satisfaction, and build brand loyalty.